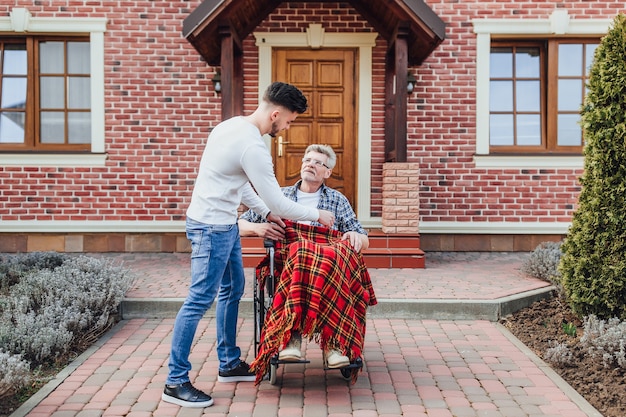 What is companion care? Why is in-home care important? 
In today's world, a large number of people in the UK and all over the world are now affected by loneliness, commonly affecting people over the age of 65. There is a lot of misconception about home care; some people think that it is only needed when someone returns from the hospital or after some relative has a fall or is not feeling well. It is crucial to professional in-home care and support for any patient. To provide help and companionship, a lot of the best home care professionals like us now offer home care services as there is a huge increasing level of loneliness among older people. 
What is companion care?
Companion care connects older adults with their community by nurturing their relationships with the other seniors in the group and helping them live an enriched and active lifestyle. Our senior companion in-home care offers emotional support and invaluable friendship to older adults.
Our companion is just like a friend to the older adults, like an ally and a confidant, someone who will sit with them and watch films, listen to music, go on outings, play games, walk around with them, share stories, share meals and a lot. Also, for empowering friendship, our senior companionship will offer different services which are designed to help the seniors to live safely and comfortably like;
Help them with laundry and other housekeeping
Our qualified, compassionate caregiver will help in doing laundry, and other housekeeping works to keep the senior in a good, safe, clean and comfortable environment. 
Exercise and medication reminder
Although senior companion care is non-medical care, our companion will help keep track of their medicine and exercise. While exercising, our companion will also give support and motivation as they are too old to do the exercise independently. 
Assist them in preparing and serving food and in shopping
Most older adults face problems while eating nutrition, cooking food and even shopping, so food is a very important and meaningful thing and a vital factor for their good health. Our companion care specialist can guide and help them step by step, from planning to shopping for groceries, preparing food, eating carefully and cleaning the utensils. They also sit together and share meal time, the best relaxing time to share conversation and enjoy their company. 
Transportation service
Our companionship empower the seniors to stay connected with the community and support them in every step as a trusted driver whom they know and who is friendly and trusted as our companion care guide can drive them to the hospital if they have doctor's appointment, different social events, even for fun outings, take them to grocery shopping, etc. for the senior people who cannot drive for a long time and this they avoided to go the social gathering neo they are happy to enjoy with other as they now have a friend and companion who can drove them safely and who they can trust. 
Help them with personal hygiene, grooming, and bathing
After a certain age, many older people find self-care without any help a bit difficult. So our companionship will provide assistance to the senior adults without judging them. 
Companionship is when a person shares a conversation, someone who will share their personal experiences like stories and hobbies etc. feeling of loneliness and isolation from social life is the main reason for our mental health which further affects our physical life too. Our mental state is connected to our physical health if we feel good, positive, and happy. Our bodies function better. It will become a danger for older people to not see the face of many people for a long time as the feeling of loneliness may creep in.