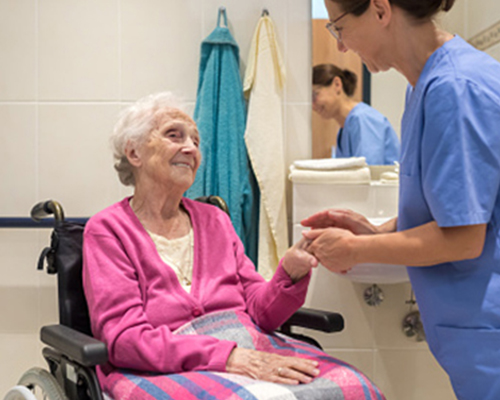 Older adults are struggling with incontinence. This is not only regarded as a physical challenge but also a condition that interferes with the quality of life. Having an unexpected bowel & urinary leakage is the problem that causes this issue. It can make older adults embarrassed and devastated. Have you ever gone through this situation? If you are, this might be the biggest embarrassing moment of your life! To prevent this situation, all you need is in-home Incontinence Care services.
When you hire caregivers for Incontinence Care assistance, they will help older adults dealing with incontinence. They will help to maintain a sense of dignity. We are one of the leading in-home care agencies helping seniors remain in their homes. We are establishing this firm intending to live independently as much as possible. Our trained live-in caregivers provide such services as experts who Assist with bathing, grooming, dressing and eating. We have experts on our team who assist you with toileting and incontinence care. The expert caregivers will also help with mobility and deliver Medication reminders.
Along with this Incontinence Care service, we help you with many other services, for example, Meal preparation, Grocery shopping, running errands, providing transportation, Light dusting, vacuuming, Changing and making beds. We have become one of the most branded names in the industry of senior caregivers accompanying you for doctor appointments. With us, you can get companionship and meaningful conversations. Do you have any senior adults who need extra care? Hire us today.
What are Incontinence and Its causes?
Incontinence is the inability where it is tough for the patient to control the bladder or bowels. This loss of control can cause urinary leakage at any time and in any place. It can make you embarrassed at any point in your life. While there are different types of incontinence, some of the most common issues of Incontinence that old age people go through is Fecal Incontinence. This is the case when stool leaks from the rectum, which can result from Diarrhea, Chronic constipation, Muscle or nerve damage and medication.
Similarly, Urinary Incontinence is another phase when urine leakage occurs because increased pressure from activities such as laughing, coughing, or sneezing causes the bladder to leak. It can be caused due to multiple reasons, for example, Alzheimer's disease, Diabetes, Nerve damage, Pelvic organ prolapse in women and Weak bladder muscles.
The bladder muscles go weak when you cross a certain age limit. Incontinence can be managed with proper treatment. If you have an older person at your home who goes through this issue, you need to hire a caregiver who works for them. We have highly skilled caregivers who know how to handle incontinence accidents sensitively.
Want to hire an in-home caregiver?
Incontinence is a normal process with growth in age, but sometimes it can take the worst look when it is not taken care of properly. But most people don't consider this situation and feel ashamed to talk to their doctors. If you are one of them, it's time to move out of your comfort zone.
When the senior elders do not seek treatment, they may isolate themselves to avoid having an accident in public. With this fear, they enclosed themselves with the boundaries. It can lead to depression and anxiety. When caring for an older family member, you must take care of them. If they are going through this situation, it's time to talk with them about Incontinence Care services.
Our caregivers will assist you in the toughest situation and help you to move out with better confidence. To get any other personalized home care assistant, reach out to us.