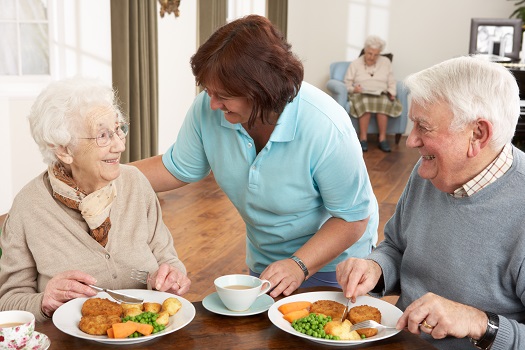 Recommending the proper nutrition & right meals to the seniors is our aim. Having concerns regarding daily meals & nutrition can be the toughest task for seniors. You can't take care of your elder loved ones if you have a busy schedule. If you feel your parents are losing weight, this might be the time to consult with home care. Do you notice inconsistent eating habits? If you have lost your appetite level and you are losing weight frequently, you should get recommendations to keep up the nutrition.
We are working intending to serve care and respect to the seniors. We are a team of home care experts or senior caregiver Meal Planning & Preparation experts who are trained and experienced. Our team will reach your space and monitor the diet chart. They will prepare healthy meals along with grocery shopping and meal preparation. Doesn't that sound amazing?
When a person grows older, he/she might go through lots of challenges mentally and physically. The growth in age might lead to a lack of appetite, depression, frailty and mobility issues. In this case, it is tough to plan and prepare meals but don't worry; this is when our caregivers come into the frame.
Our caregivers will assist you in shopping & preparing healthy meals for maintaining a high nutrition level. So, if you or any of your older loved ones need to care for Meal Planning & Preparation, you can call us! With us, you can make a huge difference in your lifestyle! Want to consult with our experts? Connect with us over the mail!
Keep your loved ones nourished & healthy!
Aging also brings changes in your appetite, which causes unhealthy consumption and meal skipping. If your elders love to eat sugary or salty foods in their meals, then you should properly consider their meal planning. Getting proper nutrition is crucial for the well-being of people. After a certain age, you must maintain your health by regulating your blood sugar level and understanding the weight management system. If any of your loved ones have gone through high or low blood sugar levels, there is a chance that he/she might be at risk. Before they need to be hospitalized, hiring us for the Meal Planning & Preparation service is essential.
Our senior healthcare experts will strengthen the immune system & help to improve cognitive functioning. We aim to promote nutritious meals to promote a healthy digestive system. Going through digestive disorders is common after a certain age. This is why we recommend eating several smaller meals throughout the day. We provide complete Meal Planning & Preparation care to aging adults in a variety of ways. Dedicated caregivers perform their best, from cooking nutritious meals to offering on-time reminders for consuming the medication.
Get instant help from our experts!
People over the age of 65 need special care and attention, right? Fortunately, we, the team of senior care healthcare, offer benefits to aging adults in various ways. We will be there in your space in just one call! Before suggesting anything to you, we take all the responsibilities. The food prepared by our team is fresh and can be a safeguard against food poisoning.
Many volunteers work as a team and serve home healthcare services. We ensure your lovely elder ones get the complete care & nutrition they need. We suggest the menu based on their health condition. We track the health records and serve them Meal Planning & Preparation containing all the nutrition. When you consult with our team and work with us, you will get confident about your choice. We help you lovely elders and take care of them 24 hours a day. To learn more about reliable senior care plans, connect with us today!