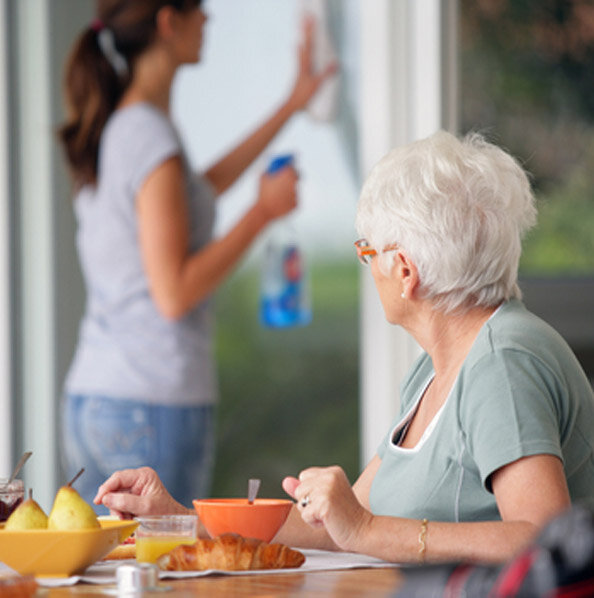 Keeping your home clean and safe is tough, but this is crucial when you have kids and old age people. Our Senior care Housekeeping service will take over all the charges of cleaning & dusting when you hire us. We will take care of the patients and make sure they are happy and comfortable with us! We take care of senior care lite housekeeping and homemaking services. Home-keeping is the most overwhelming task, and small repairs can frustrate you.
For some seniors, it is tough to vacuum or mop the floors. Are you one of them? Are you living alone on your property? Do you have any joint pain issues? In that case, moving your hands in each corner of your living space is tough. To prevent you from this condition, we will be there to help you! For some senior-aged people vacuuming or mopping the floor is an arduous task. A little help with light housekeeping and personal hygiene can help you. We help you to update your space in the best possible way.
Living in a badly conditioned home is similar to living in hell. When you stay in an unhygienic place, you invite bacteria and viruses into your home. You can ask the Lite Housekeeping services to keep your home clean and organized. Our in-home care assistance will rearrange your space which helps to bring positive vibes. A safe and clean atmosphere helps to positively take care of your health. During the winter, the chances of accidents increase due to slips and falls. When you hire a home health aide, they will anticipate the problem, and before any accident offers, they will bring you out of this!
Keep your loved ones clean & organized by booking our senior care lite housekeeping!
Caring senior citizens provide lite housekeeping service for seniors as part of overall in-home care. The caregivers of our team will help you to clean and organize things in the right manner. We have a huge range of lite housekeeping services for seniors. With us, you can sort out things in a better way. We will be there with you and clutter the things from your space that are unnecessary. We are committed to maintaining a safe and clean home! To get a consultant with our in-home caregiver for creating a housekeeping plan, connect with us now!
Our assistant caregiver works delicately for you. During the winter, we will take care of your home properly heated and can call for emergency services. We will ensure to keep your home's temperature balanced to avoid dehydration and heat exhaustion. If you also find any hassle in completing your daily day-to-day task of cleaning and dusting, you can talk with us. We will reach your space and take care of you 24/7.
Get free calls for consultations!
Do you want to keep your surroundings clean and organized? We also provide complimentary care services to our clients. When you are with us, you will get optimum results. If you want to get any extraordinary services from us, you can connect with our associates. We have multiple functionalities that make us apart. No matter your needs, our specialized in-home caregivers try their best to meet your expectations.
If you are not sure about the quality of our Lite Housekeeping services, you can check our reviews. We received an amazing response from our clients, proving how dedicately we work in this field. After evaluating all the needs, we will work with you and meet your requirements. We will handle your loved ones physically and emotionally and try to be their best companion. If you want to get a personalized plan, contact us and get free consultations.